I love a small town on a river. They lack the pretense of either big cities or trendy ski resorts. There may not be much to do but sometimes that is exactly what is desired in a destination.
In the fall of 1992 I was a busy man. Not content to be a fairly prosperous citizen with a full time job, a manageable mortgage and an upbeat attitude about turning 40. I had convinced myself that I needed to go back to school. It seems there is a community college everywhere you go nowadays ready to hand out associate degrees to anyone with a modicum of ambition and a craving to reach out in order to exceed their grasp. There is not much wrong with that but I can tell you it will ratchet up your stress levels. In hind sight one of the most important academic tools I had was my boat.
It was the ultimate refuge from my self-imposed work load, a valuable place to study for final exams and the best place to simply sit and write. Dragonsong took me places that were both relaxing and inspiring.  Oxford, Maryland is about as sleepy as small towns get. On the Rockwell scale I give it a full  10 Normans. Situated on the Tred Avon River it has a simple charm and as far as I know there is nothing in the way of franchised commerce. What you see is what you get. It's all Eastern Shore crabber's culture.
I recently had one of those clear reminiscences of a particular day in October when the tourist trade was non-existent and I seemed to have the town to myself. Leaving my inflatable dinghy, affectionately named the Rubber Doughnut of Death at a handy dinghy dock I ambled across the neatly manicured town and fetched up at the Masthead Restaurant. I found a table on the deck of the nearly empty restaurant and ordered some of the local fare. It was a fine meal and as I settled back to finish off a glass of beer while being eyed hopefully by a large seagull.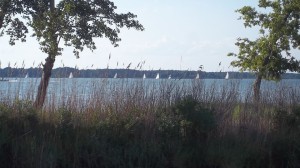 I relished the view of the river and drew in the fresh air with the feeling that it brought actual healing to my soul as well as oxygen to the blood. I took a mental snapshot of the moment and stowed it away for the future and earlier this day I retrieved it.  Something told me that I was in need of it's restorative power and my muse decided that it needed a poem to accompany it like a glass of cold beer and a whiff of salt air.
Crab house Afternoon
Food wrestled from the bay
With which I fill my eyes
Is lit by the sun's every ray
And tastes like heaven sent it
To feed something deeper;
A soul-craved need
On a curve much steeper
Than any I can measure
With clever tools and arithmetic.
The sun is kind on this fine day.
How long can I stay?
Moments are never too long
That warm the blood
When the tide is in the  flood
And brings a calm at the ebb.